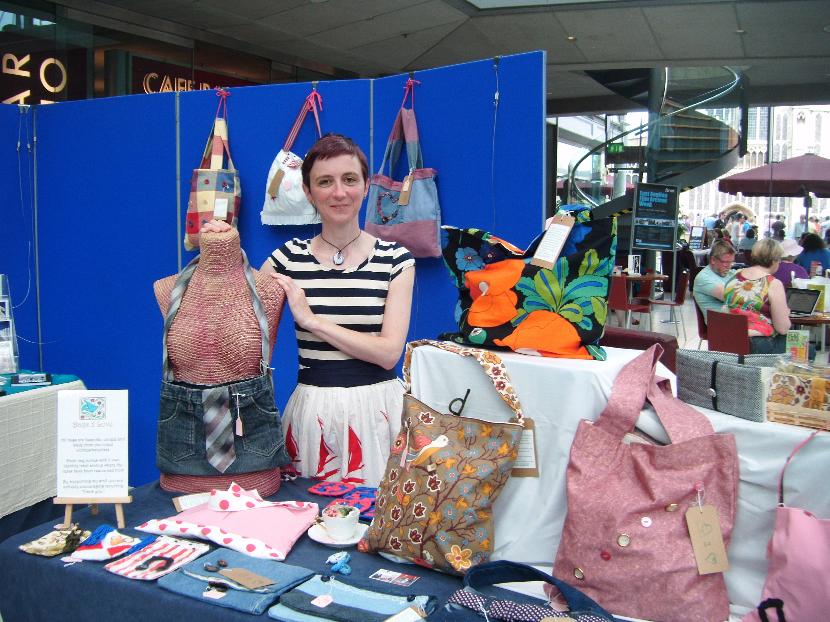 Package One : Talk-

"Recycling with a Difference"
Details/Statistics on recycling textiles

Why I started my business and how recycling became my passion

A Demonstration

on different materials I have used over the time

Space for any questions
Duration: One hour.

Number to Attend: Any amount.

Cost: £40 plus 45p per mile for petrol costs



Package Two : Upcycled Jean Bag Workshop - Adults

I will provide the following:

Brief Talk and Demonstration

My sewing machine, needles threads, and a small range of buttons/lace/embellishments to use
You will need to provide:

Clothes that can be recycled such as a pair of unwanted jeans/cords/trousers/skirt

A belt made of cotton or fabric (not leather/plastic) OR a ladies/gentleman's tie

A strong pair of scissors
Duration: Two hours.

Number to Attend: Maximum 12 (for practical reasons).

Cost:

from £15 per person with a minimum of 4 people participating.









Package Three : Upcycled Jean Bag Workshop -
Children/Schools
As Package Two but with the following specifications noted:
The school will need to provide scissors and needles
Children's clothes can be used
The duration of the workshop is still two hours, however this can be continued with a follow up workshop(s) at the same cost as before.
Class numbers/help from residing Teaching Assistants to be discussed
Upcycled T Shirt Jewellery Workshops also available!!

plus One Hour Workshops for smaller projects coming soon....


Please note that you provide the location, all advertisements and arrangements for the people attending the above workshops. I am covered by Public Liability Insurance. For details on any workshops and talks please go to
contact-us.php
Thank You.